Magic Valley Private Utility Locates – Idaho, Oregon, Nevada, Wyoming, Montana, Utah, Washington Private Utility Locating
---
Locating Excellence
Magic Valley Private Utility Locates is one of the Idaho's most dependable Underground Utility Locating Services. Magic Valley Utility Locates works throughout the Idaho, Oregon, Nevada, Wyoming, Montana, Utah, Washington serving a diverse base of customers who provide gas, electric, telephone, CATV, water and sewer utility service.
Magic Valley Private Utility Locates is fully engaged and dedicated to damage prevention. We perform round the clock services for our valued customers, with a goal of developing and maintaining long-term business relationships.
We Can Help You Find:
Lighting
Design Mapping
Gas
Fire Mains
Wells
Hose Bibs
Satellite Feeds
Cable Lines
Video Inspection Services
Design Locates
Electrical
Propane
Steam Lines
Alarm Systems
Irrigation
Sewer inspection
Locating collapsed pipes
PVC Pipes
Water Services
Tanks
Communications
Sewer
Storm
Pipes, Sewer Lines
Empty cond ECT, from 1/3/4″ to 6″
Locating and finding electrical faults both the video and fault finding
And much much more!

 .
We just bought the GSSI Sir 4000 here is a little bit about it:
First high-performance GPR data acquisition system designed to operate with analog and digital antennas. This evolutionary step allows true versatility and flexibility by supporting a wide range of users, beginner to advanced, in numerous applications.
The SIR 4000 incorporates advanced display modes and filtering capabilities for 'in-the-field' processing and imaging. Fully integrated, the system provides a simple user interface, plug-and-play GPS integration, and WiFi enabled data transfer capabilities.
Ideal for multiple applications; utility designation, concrete inspection, mining and geology, environmental assessment, archaeology and forensics.
 .
Services it offers: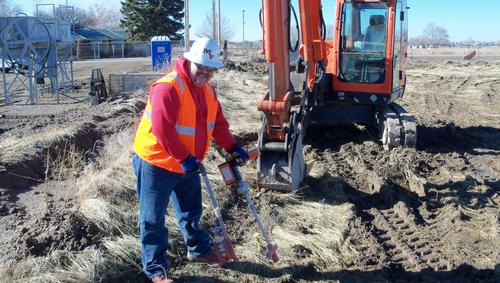 Gound Penatrating Radar
Utility Scanning
Metallic Surveys
Inspection
Environmental Locating Service Experienced In:
Gas Stations: Texaco, Chevron, Mavrick, Sinclair, and more!
Test Pits
Site Remediation (remove old soil replace with new)
Soil Borings
Monitoring Wells